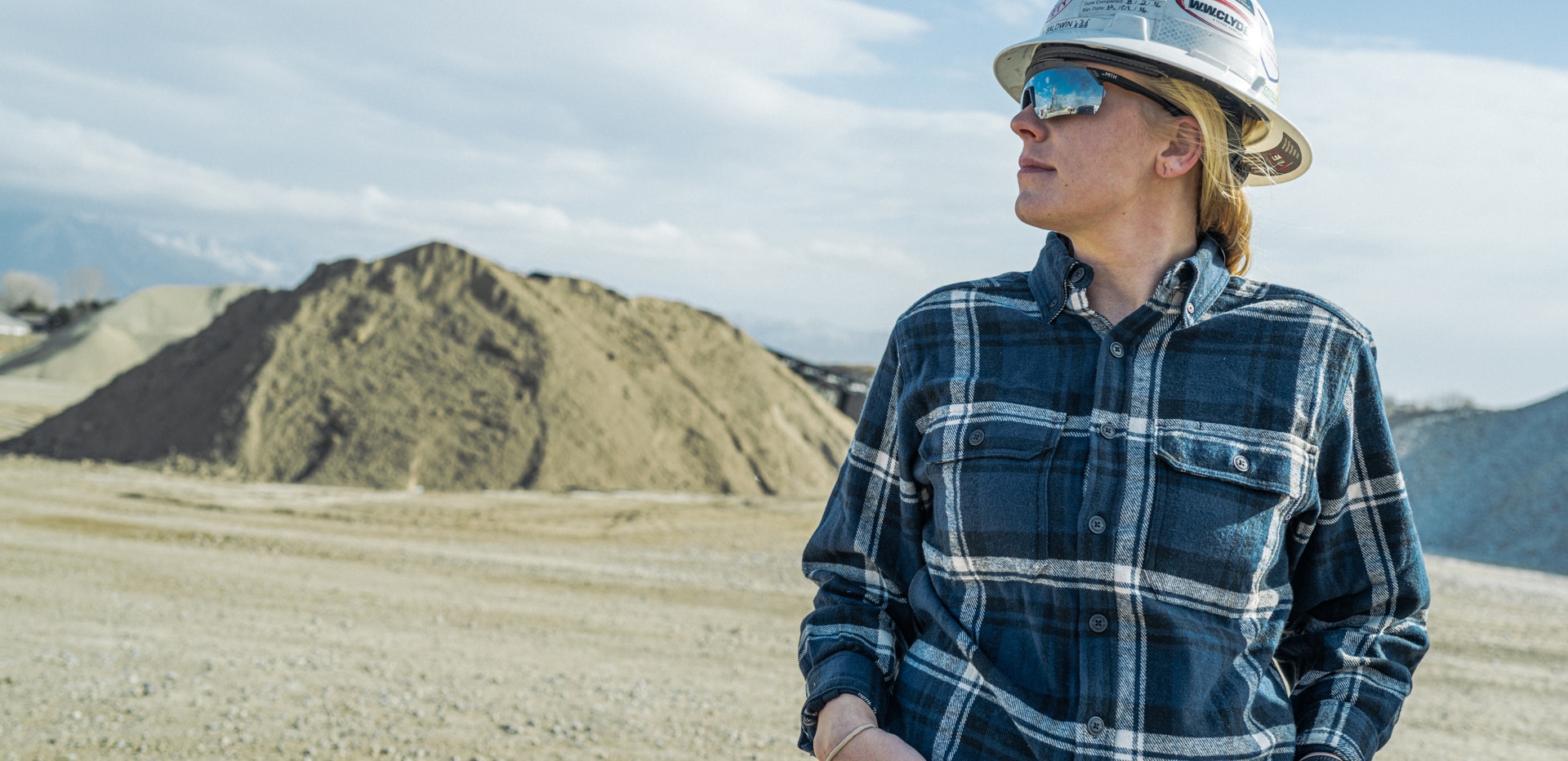 THE PATHS
WE FORGE
MORGEN BALDWIN
She Builds Bridges
Morgen Baldwin drives her pickup truck down the fresh black pavement of Utah's Bangerter Highway, glancing from time to time out her window at the snow-capped mountains towering along the horizon. She takes great pride in driving this road, because she built it.
Morgen's a Project Manager for the civil construction firm WW Clyde, having worked her way up from Field Engineer and then Project Engineer since she started working for the company straight out of college in 2013. She's one of the few women in her field, much less her particular role, and she embraces the challenges that come with that fact.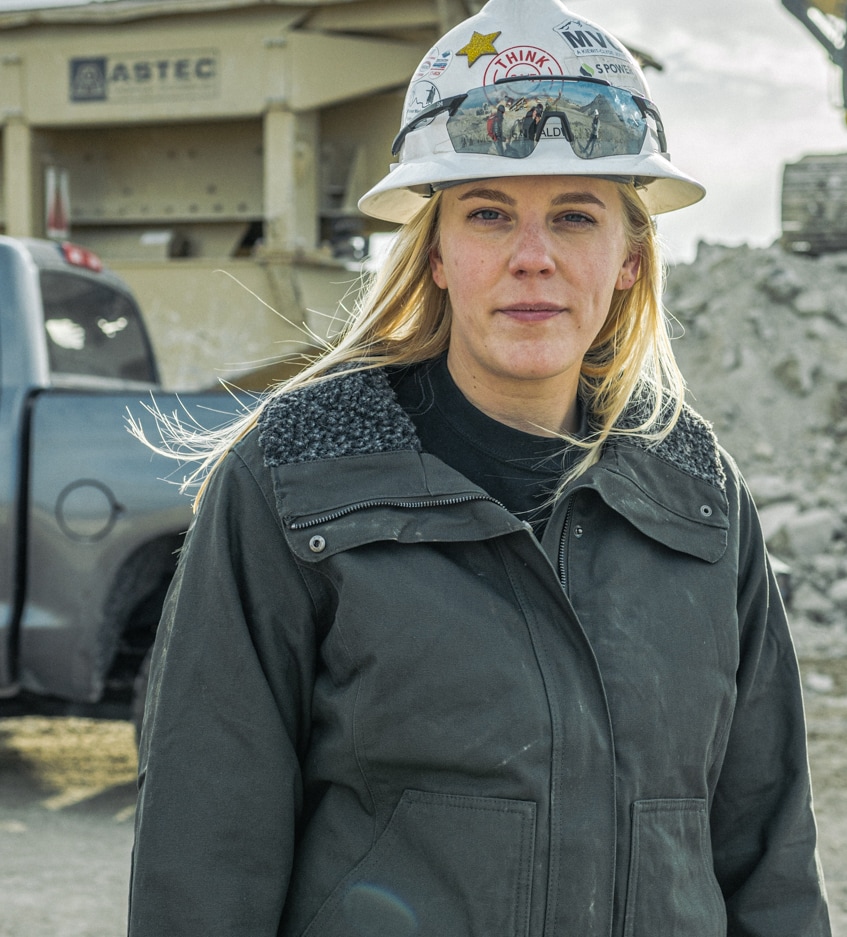 "A lot of it is a societal thing where it's just not expected to see females in construction, and it's kind of treated as a novelty to some degree," she says. "I've never really had a female mentor or someone to help me navigate issues. I've always just had to try to figure it out myself, kind of trial and error."
Morgen hopes to change this aspect of the industry in the future. She encourages women to enter the field, and encourages construction companies to hire more women. She also hopes to act as a mentor to other women trying to navigate the world of construction.
Though her own career in construction started with 100% of her time spent out in the field, she now spends about half her time out on jobsites, managing work crews and subcontractors. Her specialty is utilities, building water, gas, and sewer lines for large-scale roadway and bridge projects. The other half of her days are spent in the office, reviewing plans with design engineers, problem solving for upcoming challenges, and dotting the Is and crossing the Ts of current projects.

"What I like most about it is that you can actually see it come together physically in front of your eyes," she says of her chosen field. "It's not like a computer making some imaginary thing happen. You can actually see it happen—you watch people physically build something, and you can see the talent these people have… Just to watch it come together from something that's a concept in our head to physically being built, I think is awesome."
From Ohio originally, Morgen studied construction management at the University of Cincinnati before moving west. She chose Utah because of her deep love of skiing and the outdoors. Living so close to the mountains, she's become a passionate backcountry skier and mountain biker. These sports are a challenge similar to construction. They're about working hard toward a goal—the endurance aspect of skiing uphill for hours at a time for the reward of a single ski run, or of gaining 3,000 feet of elevation in a single bike ride in scorching desert heat. Backcountry skiing is also all about risk assessment—from choosing terrain, to studying avalanche hazards, to being up-to-date on rescue equipment and tactics. In her work she sees similarities to what she chooses to do
for fun.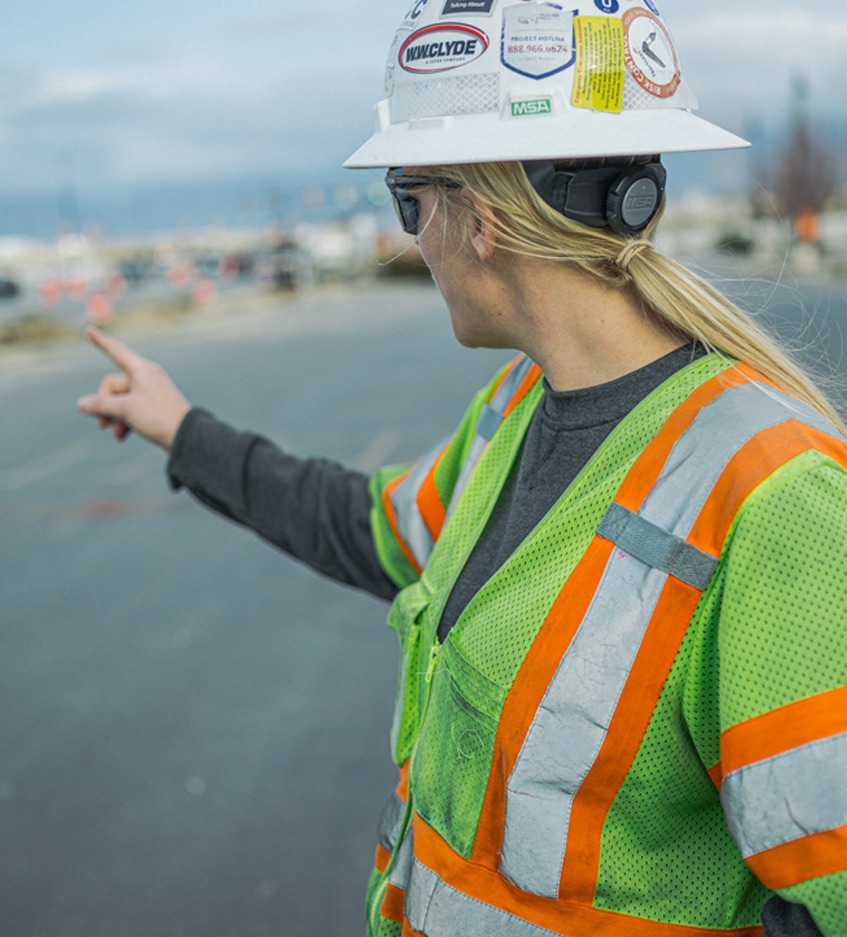 "It's like a giant puzzle that you're putting together," she says of construction, "and you don't really have all the pieces, and you're blind. Those jobs are just so difficult and every single day is super challenging. That's one of the things I like about it in a similar way to biking where every day, it's really hard. And every day you backcountry ski, the uphill is really hard."
In all her pursuits, too, she sees the importance of relationships. In backcountry skiing, for instance, she literally puts her life in her partner's hands—and vice versa. Not only do backcountry skiers weigh the risks of terrain choice and snow conditions together, but they also assume the responsibility to rescue their partner in case of an avalanche or other emergency. The relationship between ski partners is incredibly close. She brings that perspective to work as well.
"Every problem we've ever had to solve has been solved by a relationship with someone else," she says. "I know this person that can help me, or I can help this person, or I know the person to do that. Construction is very much so a relationship-based career, it's just all about who you know and how well you work
with people."
As she continues her construction career, Morgen doesn't want to go too far into the realm of upper management, where it's tough to see from an office the day-to-day results of physically building things. She also prefers the view that comes from being outside building Utah's bridges; it's a view of the snowy mountains where she'll spend her free time.