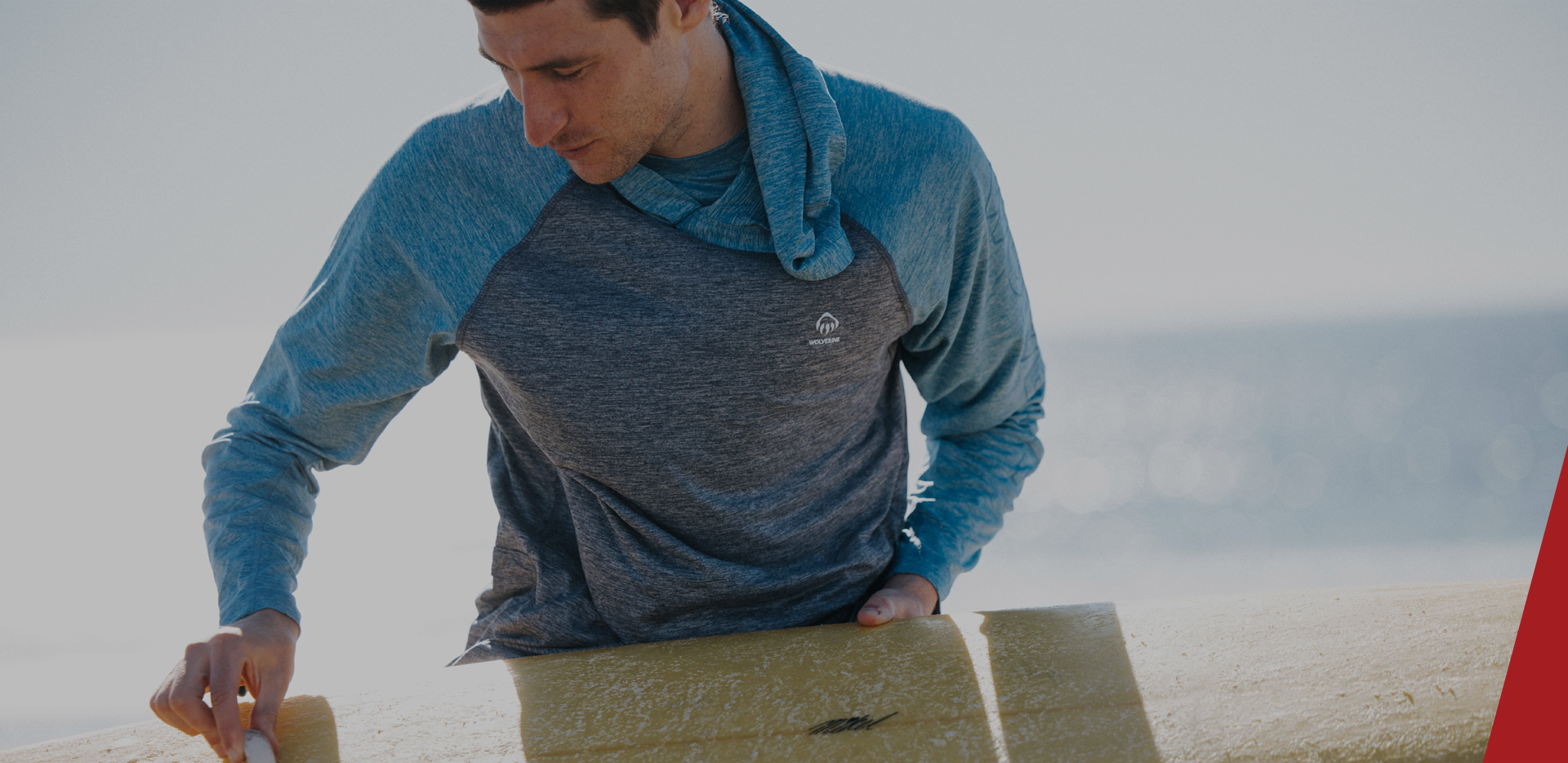 THE PATHS
WE FORGE
MIKEL EVANS
Art That Rides Water
In a long rectangle of foam, Mikel Evans sees beauty and the potential for great happiness. But first, he must carve it to shape.
Starting with a handsaw, then an electric planer, and then hand tools ranging from sanding blocks to drywall screens, he shapes the custom surfboards that have made him a well-respected name in the New Hampshire surf community and beyond. Shaping blanks, though, is just one step in the artisanal process of building custom boards.
"The labor involved with building surfboards is hard work and exposure to a lot of chemicals and foam dust. It's dirty," he says. "It's a very dirty process that is supposed to be beautiful and perfect at the end. It's functional art."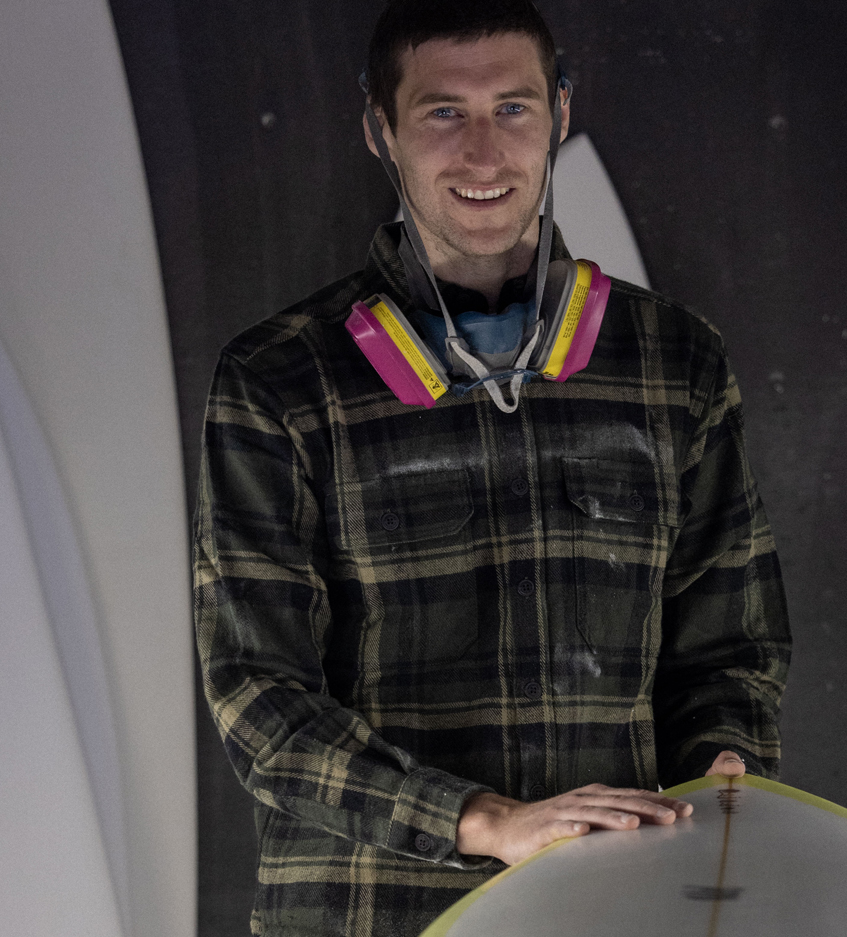 Even more so than making functional art, Mikel's favorite part about board building is that nearly every board he makes is 100% customized for the surfer that will be riding it—shaped to suit a person's size, surfing style, and personal preferences. Customization can range from length and board shape, to shape of the rocker (curve at the bottom of the board) and rails (sides of the board), to aspects that will affect the way the board surfs like fin placement and tail shape, to aesthetic factors like color. Because of this, every board Mikel makes is
totally unique.
"What's become more fun to me (than surfing) is building boards for people and watching them ride and progress and really have fun," he says. "They'll say, I was just really bored riding X, Y, or Z. And then I make them something tweaked to what they like, and they just love it."

Mikel's been a surfer his whole life. His entire family surfs—his dad's been surfing for 50+ years—and every family vacation they took revolved around the sport. His interest in shaping boards began out of frugality and utility. Working at a surf shop near his home in Hampton, New Hampshire, the high-end longboards he wanted to ride were out of his price range. Building boards started as a cheaper—though labor intensive—way to surf the kinds of boards that weren't in his budget.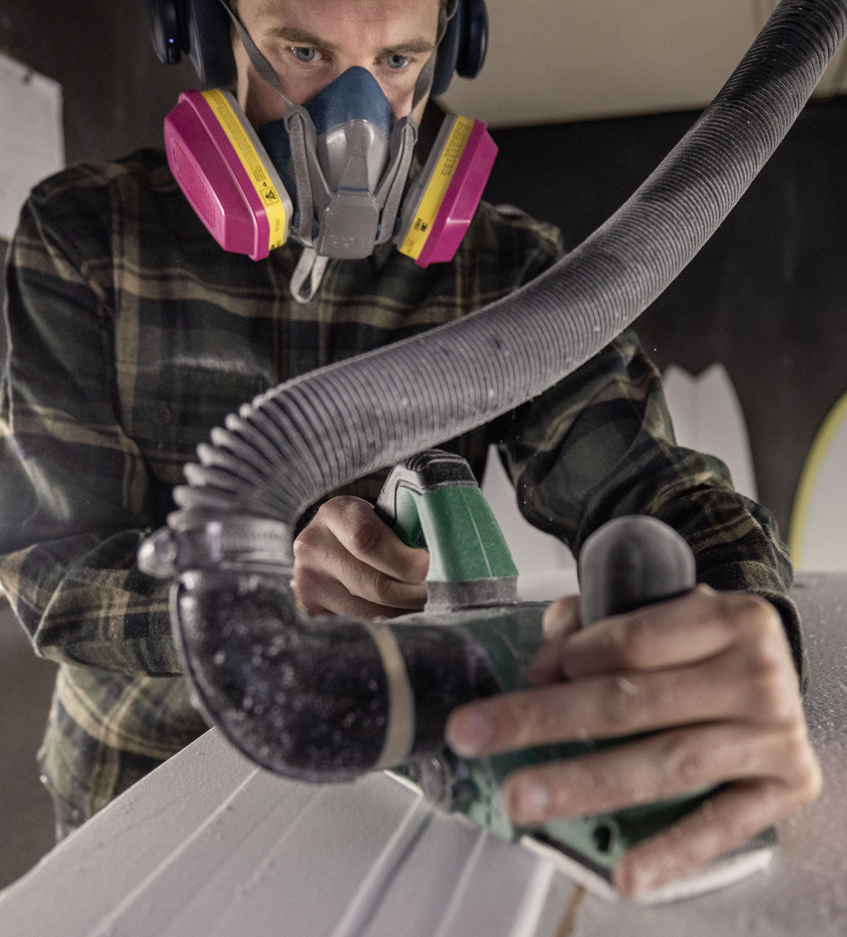 One summer after high school he flew to California, lived on his brother's couch, and cold-called surfboard factories in search of work. He got a job sanding boards, and eventually got experience in different parts of the process from shaping to the complex fiberglass work that comes near the end of the process. When he got home to New Hampshire, he returned to the shop where he'd been working, called Cinnamon Rainbows. In addition to work at the shop, he taught surf lessons and attended community college as a sort of backup plan. But in his spare time he built boards—at first for himself and his friends, making just enough money to buy more foam blanks. After a few years of that, he dove into board shaping whole hog.
Though he'd been told by numerous people that there was no money to be made in building surfboards, he had the support of his family and friends. He quit his job, quit college, and spent his life savings on the supplies to make a full-time go of it.
"I had a backup plan," he says of going to school. "I got rid of the backup plan. If I did this and I went for it and it failed, I'd have to start over and figure something else out. But I kind of just went for broke, and I'm still surprised that
it worked."
His plan worked because of a loyal following he built over time that appreciated his craftsmanship, attention to detail, and willingness to think outside the norm. He's built a small but efficient operation, completing every part of the process himself. In one shipping container (from an old shoe truck that used to travel to military bases and businesses fitting workers, coincidentally, for Wolverine boots among other brands) he does the dirty work of sawing, shaping, and sanding, trying to keep the mess of foam dust in check with a vacuum system. This process starts as carpentry—sawing by hand, often utilizing shape templates that Mikel has built over the years, followed by removing excess foam inches at a time with an electric planer. Finally, the process is art, sculpting the shape to perfection with hand tools and
sanding bocks.

In another shipping container, a cleaner environment, he does the fiberglass and color work, every inch of which must be flawless. The signature look of Mikel's boards is translucent tints that give color while still allowing the craftsmanship underneath to shine. Wet-sanding and polishing give each board the finishing touch of perfection.
Though Mikel is exceedingly humble, surfers have recognized his talent, and they seek him out in order to surf their own Mikel Evans board.
"I have an obsession, and I've been lucky enough that people have fueled my obsession," he says. "From an outside perspective, it looks like I'm this extremely motivated person who can build things. I don't think I'm that great, but people are like, oh no, this is a really good board. It's what I love to do, and everyone's fueled my addiction for me."

The seven-day-a-week work pays off when Mikel gets in the water. It's time in the surf with friends and family that he most cherishes. He likes seeing kids surfing in the way he used to, when the pure fun of it was what mattered most in life. He hopes that in some way, crafting one-of-a-kind boards is a way of giving back to the sport that's given him so much joy. The joy becomes all the more profound when he sees people surfing, and enjoying, boards he's built with his own two hands.
"It blows my mind every day. I'll go surf my home waves, and there's like ten people riding my boards in the water," he says. "It's trippy, really kind
of surreal."