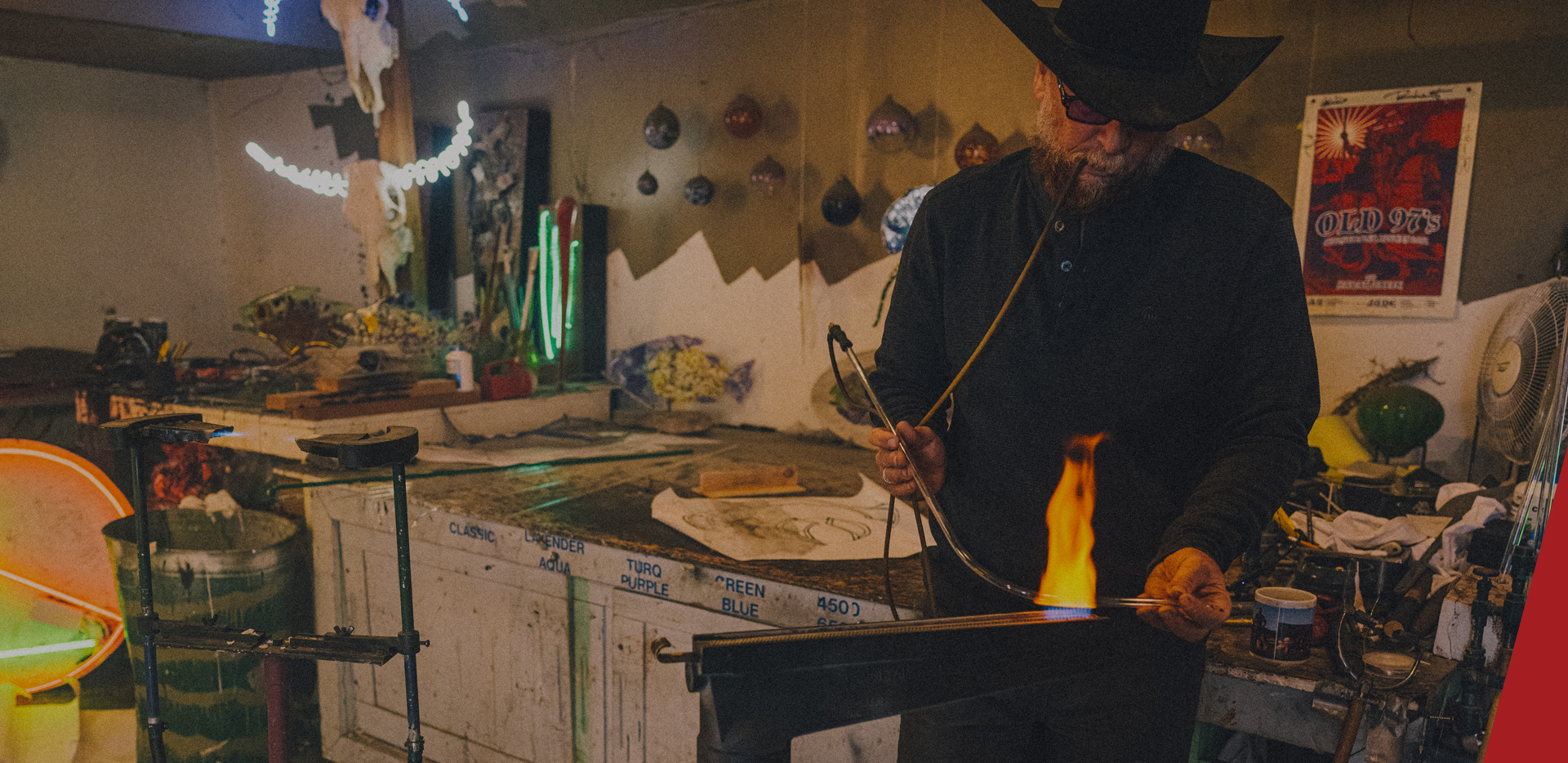 THE PATHS
WE FORGE
MATT JACKSON
Harnessing Lightning
The buzz of electricity, the heat of gas torches, an ever-present multi-colored neon glow, and a complicated maze of tubes, tanks, and valves make Matt Jackson's neon studio look and feel like a mad scientist's laboratory. But Jackson himself—in his trademark cowboy hat, bushy graying beard, and big, friendly smile—is anything but mad.
A third-generation neon signmaker and glassblower, Jackson's been drawn to the radiance of neon since boyhood. 35 years ago, he began fiddling around with glass blowing and neon in his dad's shop, and it still hasn't lost its allure.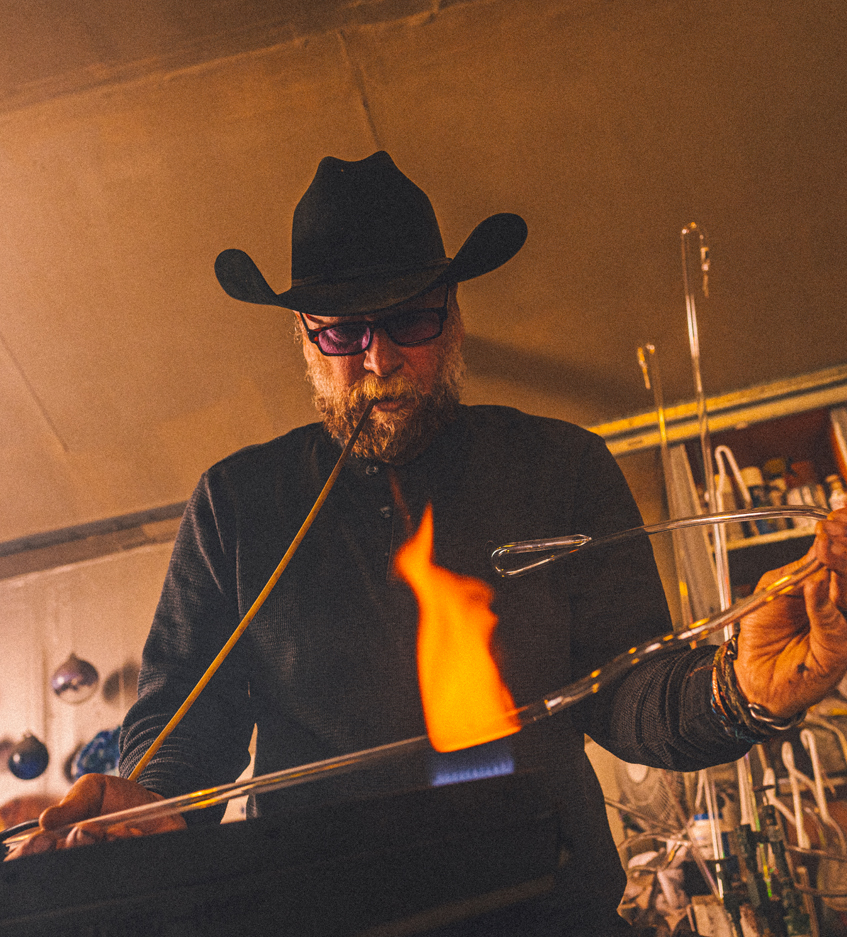 "I love the idea that neon is harnessed lightning," he says. "It's a positive charge going to a negative charge. Lightning conducts through the particles in the air. With neon, you're just containing it with tubes, but it's the same idea."
Through his company, Matt Jackson Neon and Soft Glass Works, he makes much of his living doing commercial sign work for clients from Idaho to Nevada. But the walls of Jackson's small workshop behind his Salt Lake City home are covered in eclectic neon and blown-glass art. There are bleached cow skulls adorned with spiraling neon horns, mosaic fish sculptures made with broken colored glass backed in neon light, and neon glass tubes wrapped in wire so that the charged light glows in bulging abstract illumination. Some of his favorite recent projects are art installation-style commissions—massive, swooping, intertwined pieces that hang in public spaces like the Sundance Film Festival.
To Jackson, part of the allure of working with neon is the how it perfectly balances art and science. It's been his main outlet for creativity and his curiosity since he was a kid. The process for every sign begins as an art with the drawing of a pattern—be it letters, images, or abstract shapes. Then he heats glass tubing over torch flame until it's intensely hot and pliable. He slowly bends the tubing to match the shapes on his pattern, puffing a steady stream of air through a hose in his mouth to keep the molten glass from collapsing on itself.

On the other side of the shop, where he hits the blown glass tubing with massive amounts of heat and electricity and then fills them with a variety of gasses, the process quickly becomes a science.
"It gets very scientific, and it can go really wrong," he says. "The learning curve was pretty brutal—a lot of injures, a lot of burns, a lot of cuts. As fun as it is, it's deadly dangerous. You're dealing with fire, high voltage electricity, and mercury. It takes a focus. "
Though these signs and this artform is commonly called neon, neon is only one of several different types of noble gas that are used. A combination of gas type and glass color can create glowing light just about every color of the rainbow. Argon, xenon, krypton, and neon are some of the commonly used gasses in Jackson's work.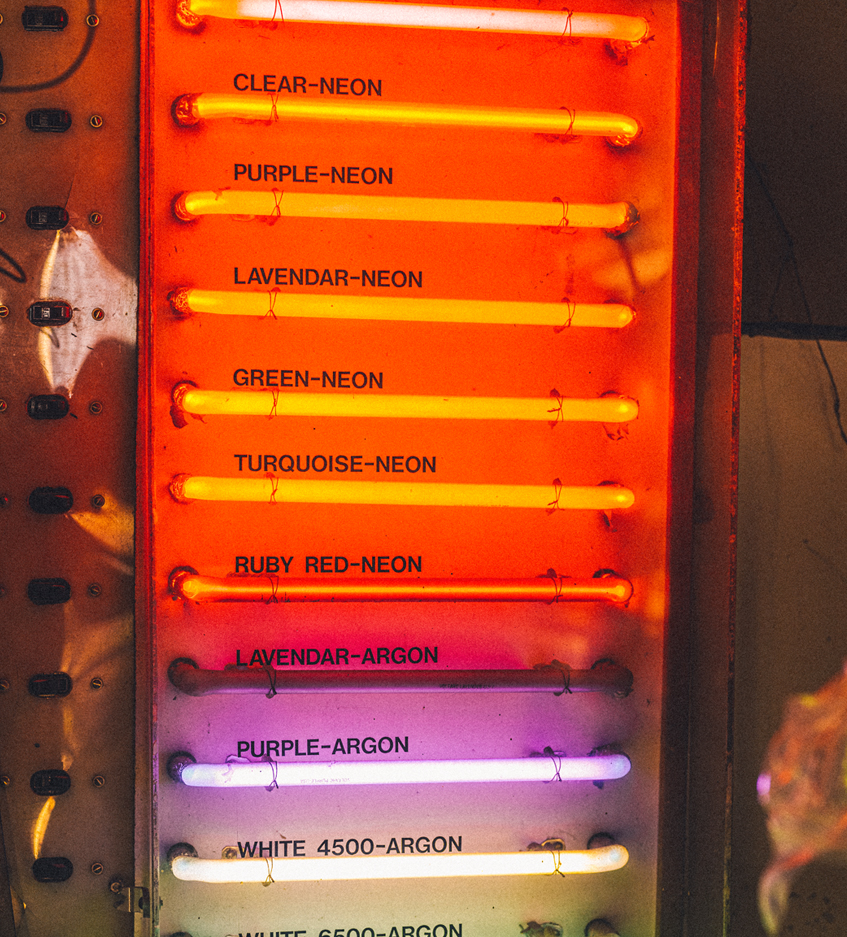 Every neon sign Jackson makes is absolutely unique, and that's part of the appeal of it. He loves the feel of a town that has great neon compared to one that doesn't. Las Vegas, Memphis, Venice Beach, New York, and San Francisco are among some of the best places to see a lot of quality neon, and they're all fun towns he says. Compare that to a place that doesn't allow neon, where it's all chain stores and restaurants and all the signage looks the same. Imitations of neon, like plastic rope lighting and LED lights behind colored plastic just cannot compare.
"It's hard to feel negative when you see neon. It just seems like a party waiting to happen," Jackson says. "As far as attracting the eye, there's nothing like it."
When asked what he loves most about neon, Jackson says he loves the history of it, which is no surprise given that neon's been in his family going back to
the 1940s.
"You see a good neon sign, especially an old one, and it just takes you back to a great time," he says. "And for me it's just been freedom. I don't know what else I would have done. I can't imagine having any other life than what I've had."
While Jackson would never say he's the best at what he does, he's reached the pinnacle of his craft through a combination of focus, curiosity, and creativity. He does massive signage projects for big national clients, tiny pieces of neon art sculpture for individuals homes, and everything between. He comes at every project with the same amount of passion, the same amount of focus and intensity each time he blows glass and puts lightning inside.