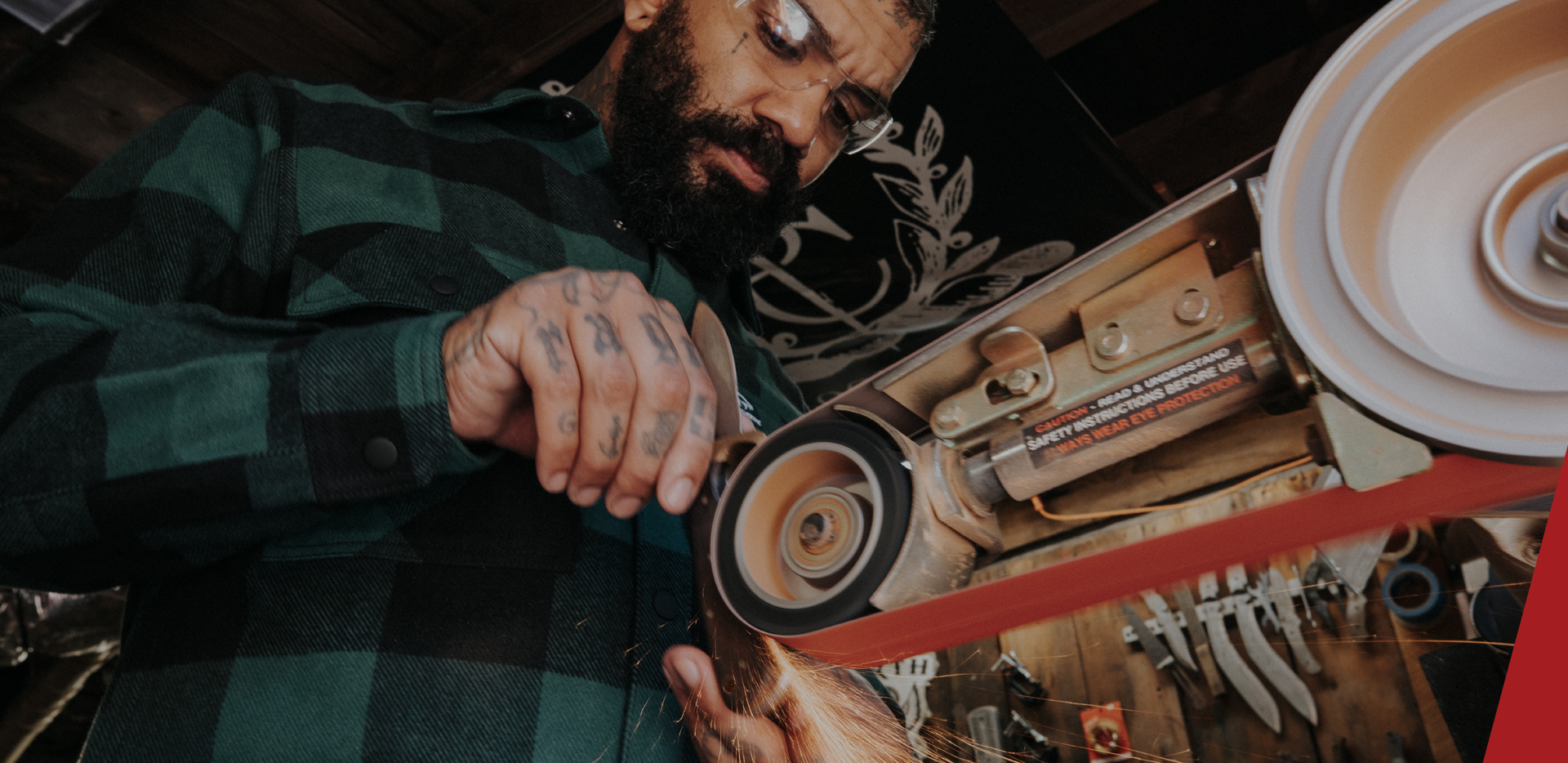 THE PATHS
WE FORGE
JASON ROBSON
There's Beauty in the Blade
As Jason Robson polishes each knife that leaves his shop to a gorgeous sheen, he imagines the patina each particular blade will eventually take on. Unlike some artisan bladesmiths, Jason makes his knives to be used and abused.
"If you're actually using it, it should turn into what your life is like," he says. "If it blackens out, or gets dark from a night outside, or gets wet and then you clean it off and it has a tarnish to it: now that's more your knife, and each one evolves a little bit with each person."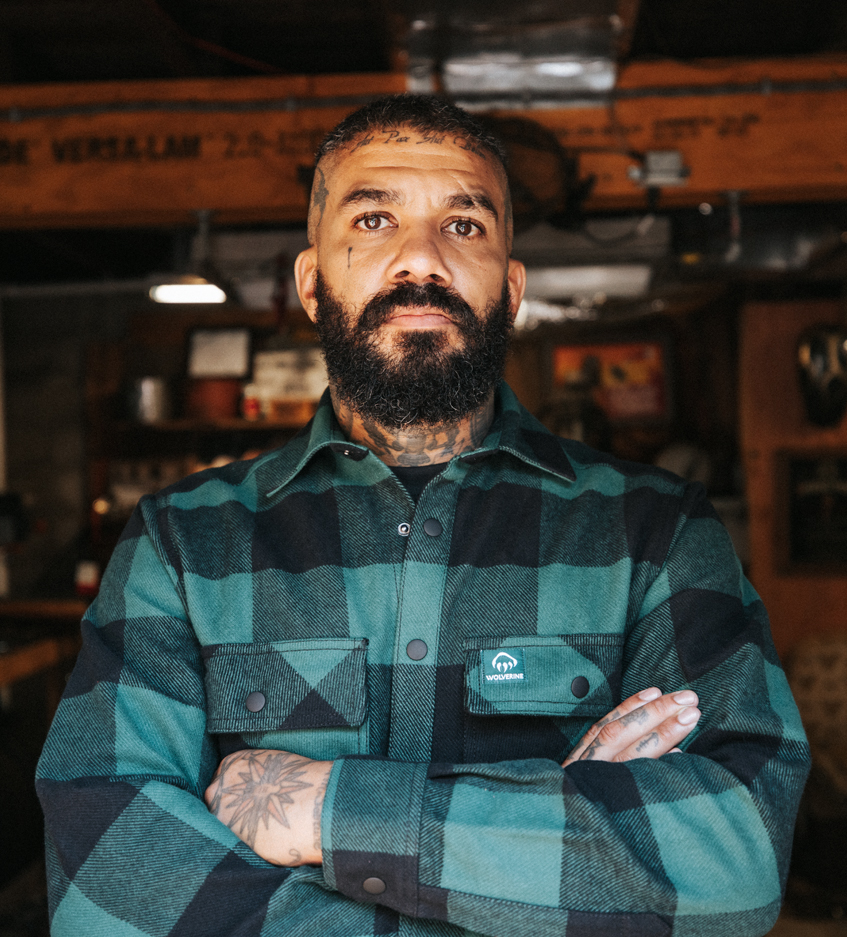 That's what I want for each knife. I don't want it to be like, oh, you ruined it because you used it once. That's not the point. You know?"
Jason's perspective of purpose-built blades makes a lot of sense, considering his interest in knives began with his passion for the outdoors. As a hunter, fisherman, and camper, he needed specific types of knives for specific purposes, and this took him down the rabbit hole of researching, collecting, using, and then finally making top-quality knives.
Knifemaking began as a hobby but has now become a significant part of his life and his career. For over 20 years, Jason's day job as a tattoo artist has developed his creative talent and attention to detail. Known for traditional work, realism, and portraiture, he tattoos from the shop he owns in Worcester, Massachusetts. When COVID forced the closure of tattoo shops a couple of years ago, he used it as a chance to grow his knifemaking passion and business. The name of his brand, Blood Creek Knife Company, comes from a story of the Mi'kmaq tribe of Novia Scotia, of which Jason's family descends.

Jason works with a partner to cut blade blanks with water jets using a CNC machine. Though he has experience forging metal, he prefers the water jet method for the practicality of strong, perfect blanks every time. Then, from his garage shop, he creates and mounts beautiful and utilitarian handles and trim of premium wood and brass. Finally, he creates custom leather sheaths made to suit each particular knife. For him, this element was a must, as the poor-quality, ill-fitting nylon sheaths that came with factory-made knives always left a bad taste in his mouth.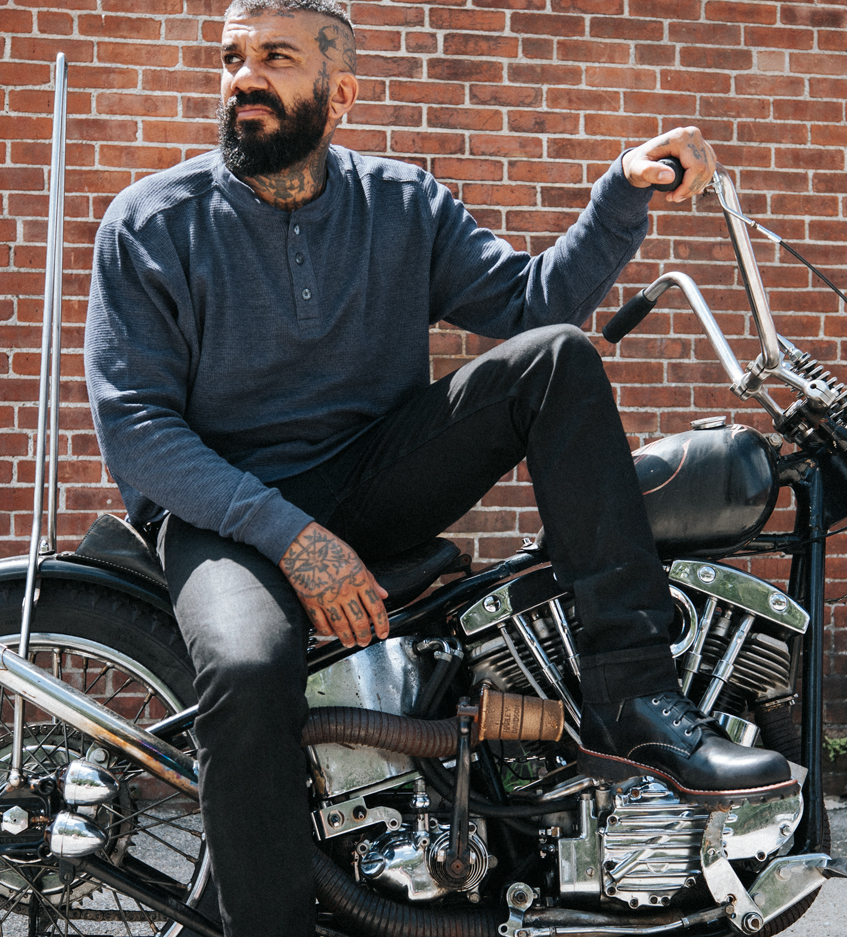 While Jason admires some of the other knifemakers out there who create ornate and artistic blades meant for display or to be put away in a drawer, that's not what Jason's all about.
"I tell everybody that buys something from me, dude, bang on it. And tell me if there's anything wrong
with it."
He appreciates intricate design, but he finds the most beauty in clean simplicity.
"There's a lot of detail in my knives," he says. "But I don't need to go in there and etch everything and make everything all crazy. If I can get the wood polished down to where I want it, I can let the wood speak for itself. If I pick the right cuts and the right grains, I can let the metal do its own thing."
Look at photos of Jason, and in addition to knives and tattoos you'll see motorcycles. He collects and builds old bikes, and he views these three aspects of his life as intertwined, as passions that are tied together.
"I've got really bad idle hands; I need to be doing something all the time," he says. "All three things help each other, because it's all the same types of people that are into them. People that are getting tattooed, they ask about the bike thing. The bike guys ask about the knife thing and vice versa."
All three passions stem from a desire to be in total control of his own path in life.
"It all stems from not wanting to be under someone's thumb," he says. "I really hate the idea of being a pawn in someone's grand scheme. It's a lot of work. But I earn my keep and I do what I can do, and then I can afford what I can afford. And I can push harder or push less, and just control my own destiny. It's nice to be able to not need anybody to do anything. I can just live my own life,
you know?"