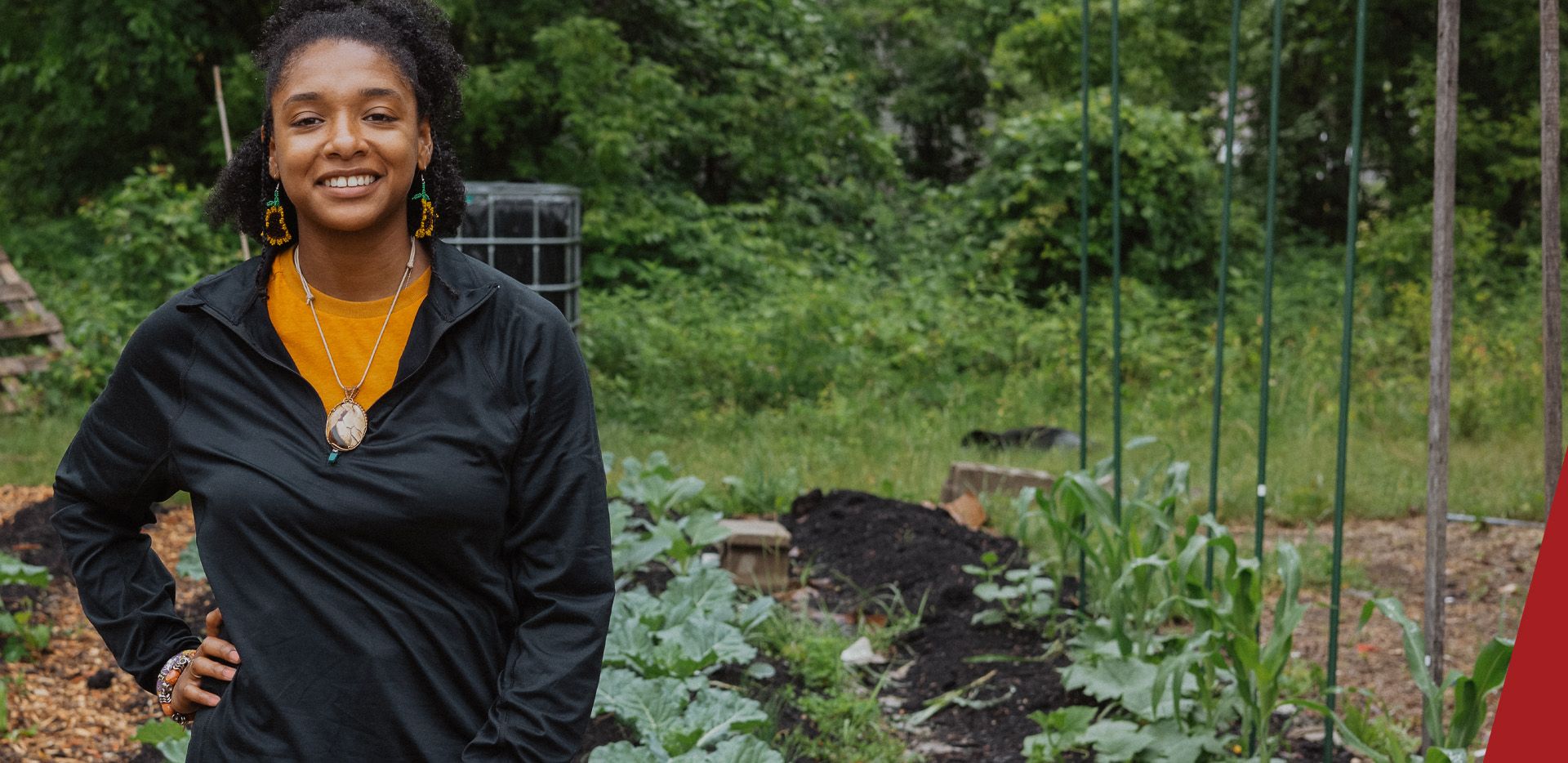 THE PATHS
WE FORGE
DAZMONIQUE CARR
Deeply Rooted
On a one-acre plot of land in a Detroit neighborhood that has seen better days, Dazmonique Carr kneels beside a row of newly planted crops, inspecting for plants sprouting. This is one of her favorite parts of the job, witnessing plants as they first sprout out of the ground, watching new growth.
For Dazmonique, Founder and Director of Operations for Deeply Rooted Produce, this is just one of several pieces of land in urban Detroit that her business cultivates. And growing food is just one of many aspects of the business. Deeply Rooted is both a grower and a distributor of locally grown, environmentally sustainable, healthy produce. It works with other BIPOC owned and operated growers, building and beautifying the community, partnering with local chefs to create great meals, and even operating a zero-waste mobile grocery store.
"The mobile grocery store started with just me on my bike," she says. "I was delivering watermelon and different produce to local pantries at first on my bike and on the bus because I didn't have a car myself as a student."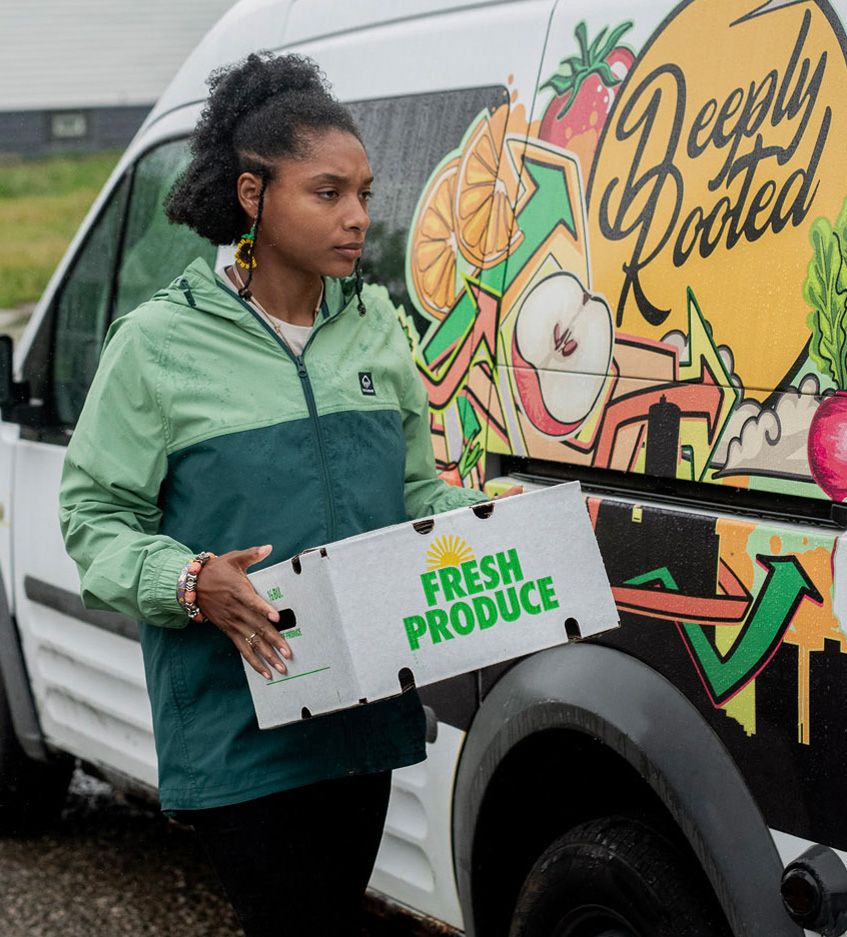 In building her business, Dazmonique has never shied away from demanding physical labor. From those modest beginnings on two wheels, the mobile grocery has become a flagship part of the business and has saved a great deal of time and effort. Rather than spending hours loading and unloading tables, and tents, and crates of produce at farmers' markets, the mobile grocery can pull up to a market, open the window, and start selling fruit and vegetables.
Dazmonique first came to Detroit from where she grew up in New Jersey to attend Wayne State University on a track and field scholarship. Though her schooling was paid for, nutritious food capable of fueling her body as an athlete was harder to come by. She started studying nutrition and food science as a minor to her kinesiology, exercise, and sports science major and then, always staying busy, volunteered for an agriculture nonprofit called Keep Growing Detroit before starting Deeply Rooted Produce. Frustrated by a university mindset focused on only stocking non-perishable foods with long shelf-lives, Dazmonique first started Deeply Rooted as a campus organization devoted to increasing students' access to quality food.

"We prioritized fruit and vegetable growth and fruit and vegetable access," Dazmonique says. "I learned that a lot of farmers were growing food, but they didn't necessarily have the labor or the consistent distribution to be able to make a full-time income from farming. So, we developed Deeply Rooted Produce to be that distribution where we could either purchase produce or have produce on consignment to be able to distribute to the local community."
It's important to Dazmonique that her business, serving a predominantly black community, work with BIPOC producers.
"When it comes to the history of agriculture in the United States," she says, "there are a lot of people who are disassociated with the food system and agriculture. There are specific perceptions around who and what are involved in the agricultural world. So we make it our priority to have a stake in it and make sure we're sitting at the table to cultivate the space for it to thrive."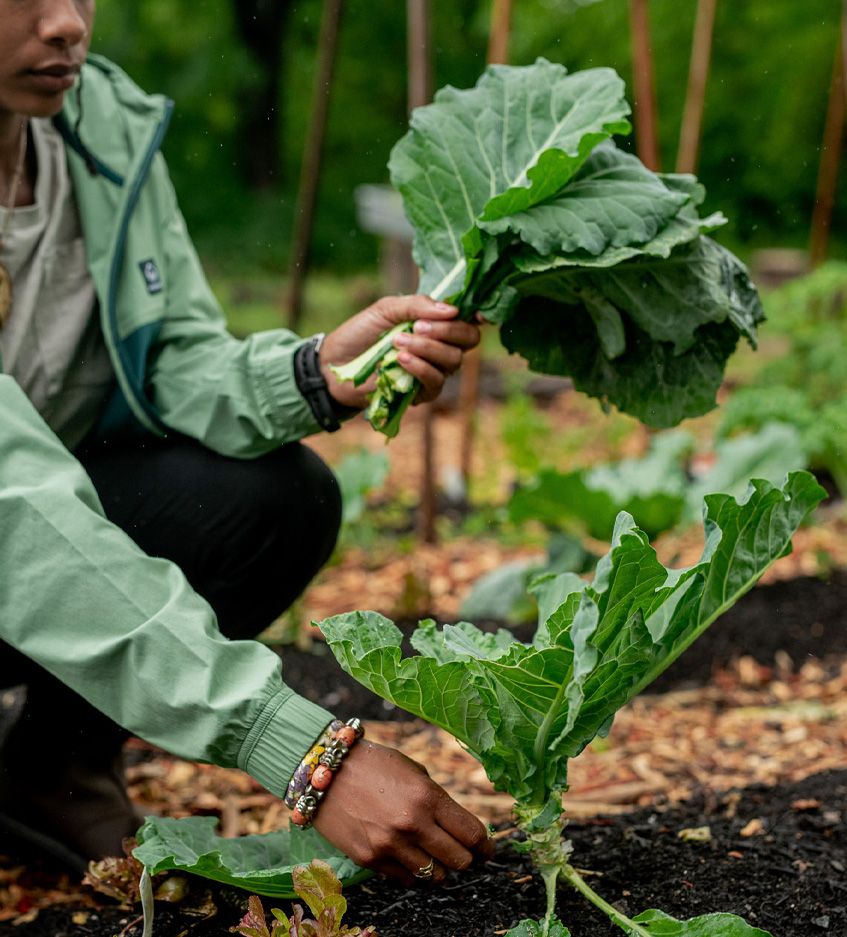 Dazmonique says that there has been some fear involved in starting and growing her business into unfamiliar territory. But she says that in forging her own path it's been important to feel the fear and to move forward anyway. She believes that she developed this strength of character early on, while attending a majority-white school in New Jersey where she was the first black girl to play on her junior high's field hockey team.
She says that in her job, partially due to the seasonality of farming, there is no such thing as a typical day. Throughout the week she works full-time on both the farming, packaging, and delivery fronts, as well as the business, planning, and human resource side of it. In her role, she juggles a whole lot of responsibilities, usually with farm dirt under her fingernails. But on Sundays, things slow down a bit. Working with local chefs to utilize produce that would otherwise go to waste for her Deeply Rooted Sunday dinner program.
"We have some important people showing up to our community dinners and making sure that we're having conversations around what really matters in our community," she says.
The most enjoyable and rewarding part of the job, in addition to harvest season, Dazmonique says is when she gets the chance to sit down, take a breather, and observe: "Different birds, different species of animals that come through the garden when they think you're not looking, how the wind flows, what improvements can be made. I really enjoy sitting down and reflecting on the progress that I've made and making sure I'm taking the space to do that."