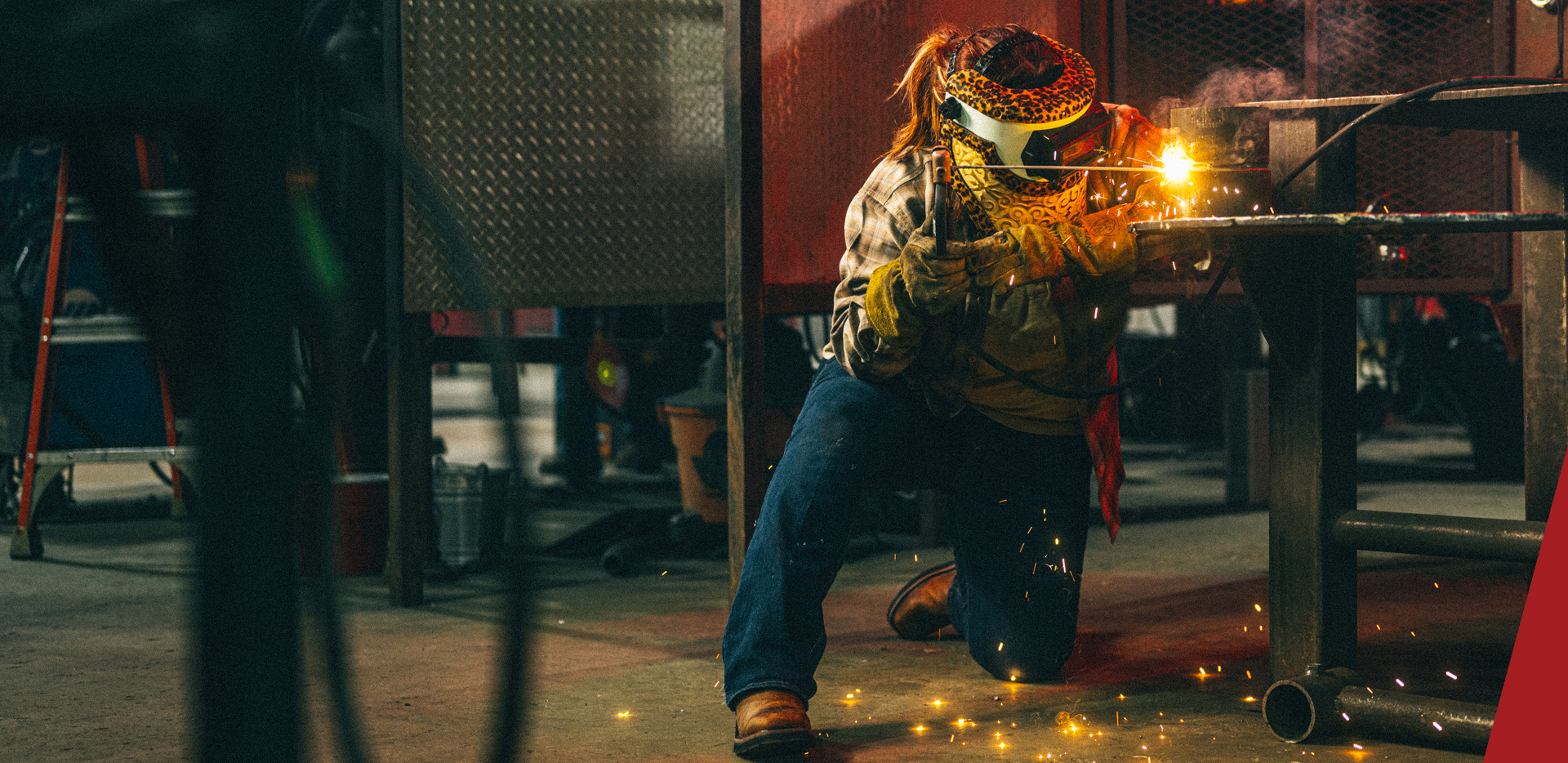 THE PATHS
WE FORGE
Saray Hernandez
Have Torch, Will Travel
Aboard some of the U.S. Navy's largest ships, Saray Hernandez puts on her headphones, cranks the tunes, and makes sparks fly. As a contract welder, each day brings with it a new challenge of keeping these vessels seaworthy. She describes her crew as a bunch of little ants hard at work building stuff. But as one of the few women in her field, Saray is one ant that stands out.
In addition to building a career as an experienced, well-respected traveling welder, Saray's made it her mission to encourage and inspire other women and girls to go into trade jobs traditionally lacking female representation. On her TikTok account, @weldsby.saray, she shares her experiences and knowledge with her 122,000+ followers.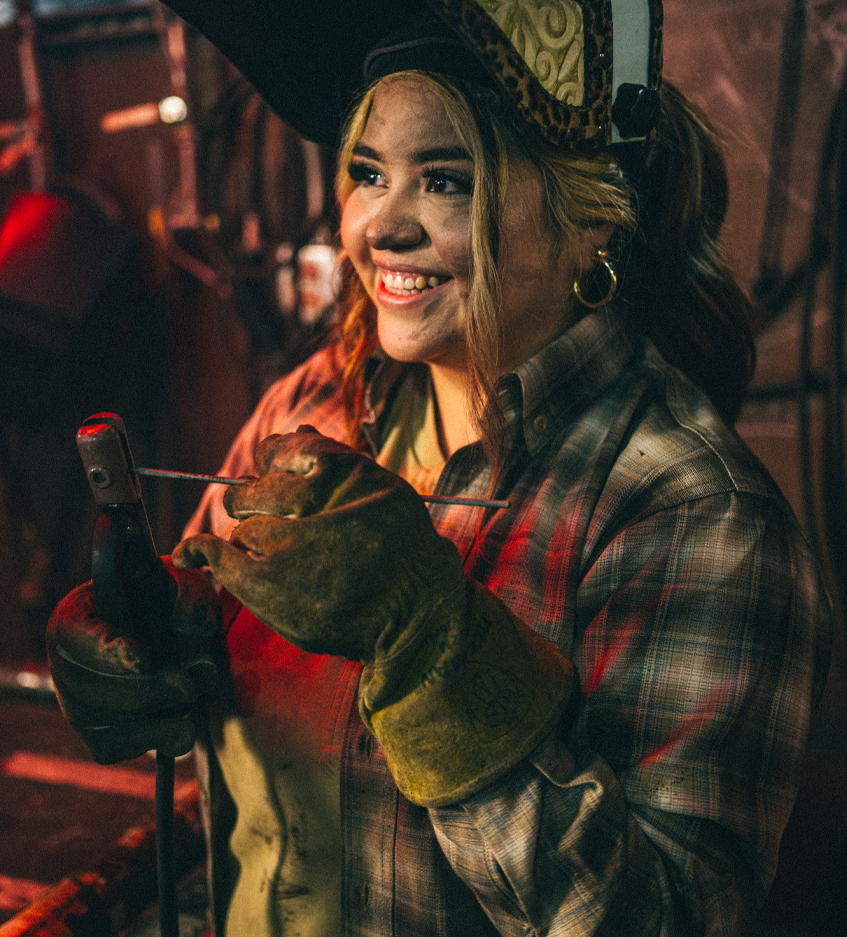 "The whole purpose of my posts is telling girls, 'hey, it's okay for us to do this type of work. It is possible.' I'm still really girly, I still get my hair done, I still put on makeup for work, I still get my nails done, and I'm still able to do this type of work that men do. It's not just for men anymore."
For Saray, it's gratifying to hear from the many girls and women—and sometimes men—who've told her that she inspired them to sign up for welding classes. Her own journey into welding never felt all that abnormal to her, mostly because she started taking welding classes so young, as a 14-year-old high school freshman. When she signed up for the classes, she didn't even really know what welding was. She thought it was some kind of arts and crafts class because her older brother had taken welding classes and was always bringing home little metal projects. Though the process scared her at first, she quickly grew to love it and had a great teacher who encouraged her to pursue it as a career.

Her work now has her on the road full-time, traveling all over the country. Never having had opportunities to travel as a kid growing up in San Diego, she views this aspect as one of the huge perks. Her I've made it moment came while working on a contract building a ride at Disney World in Florida and getting to enjoy the park free of charge after hours.
But most of her work now comes from the Navy. No day is ever the same. She works on some ships out on the water, some in dry dock, a lot of maintenance and repair, and some from-scratch shipbuilding, which she describes as elaborate and high-stakes Legos. She's worked on everything from aircraft carriers to submarines, spending enough time on each ship to really learn the ins and outs of it and to really form a bond with a particular crew. What she loves most about her career, though, is working with her hands and also being able to see a finished product after many hours of hard work.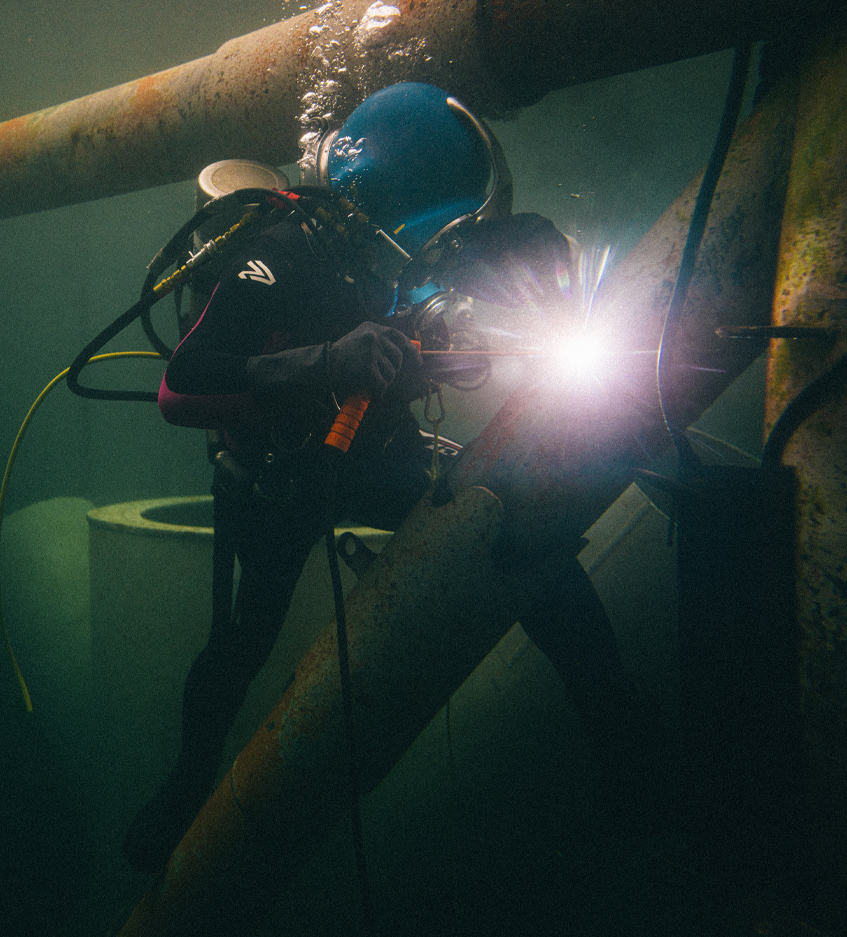 "I like that I get to work and I don't have a pile of papers to fill out or have to read over," she says. "I grab my tool bag, I put on my headphones, and I put on my favorite music. Then I'm just welding, welding, grinding, cutting, whatever I need to do. And it makes the day go by so fast, and you get so into it that sometimes you think oh wow, it's lunchtime. Or oh wow, it's already time to go. I also love being able to see how we started off with just a block of metal, and somehow it turns into this huge ship."
She's even had the opportunity to weld underwater, and as someone who's actually afraid of water, this was one of the more intense experiences of her life. Despite the fear, she jumped at the chance, in her typical style facing a challenge head-on. Challenges, too, have come from being a woman in this male-dominated field. She's been sexually harassed and told countless times that she should think about finding a more feminine career. But, she says, that negativity has only come from a handful of people, while the vast majority of men she's worked with have been incredibly supportive and have treated her like a daughter or sister or friend.
Finding these encouraging mentors is important in a trade like welding, she says, and even more important is becoming a mentor to young people new to the trade. With fewer and fewer young people entering these types of careers, there's a current shortage of tradespeople, especially welders. As an older generation heads toward retirement, Saray encourages young people to follow in
her footsteps.
"I feel like I've always been the youngest person on my crew, and even as I get older I'm still the youngest one," she says. "I keep telling people, hey, it's okay for us, for our generation to get into the trades. It's cool."