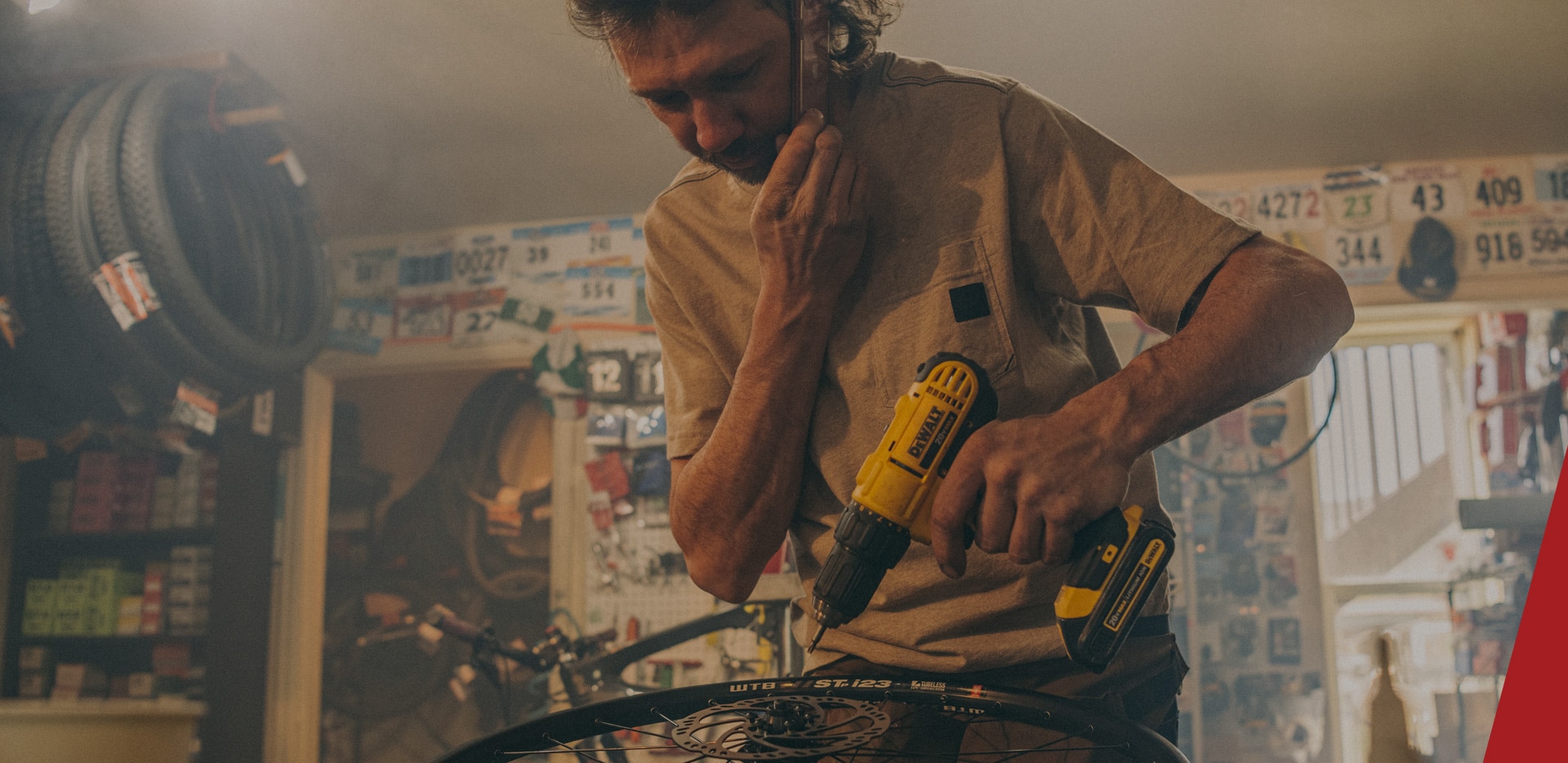 THE PATHS
WE FORGE
NATHAN MILLER
Craftsmanship on Two Wheels
Nathan Miller spends some days building brand new full-suspension mountain bikes, some days restoring vintage Schwinn cruisers to their original glory, and others riding and racing bikes of his own. As owner of the bike shop, Ridgway Wrench in Ridgway, Colorado, Nathan's built his life around the bicycle. He loves finding the balance between time spent riding bikes and time spent honing his craft of working on them.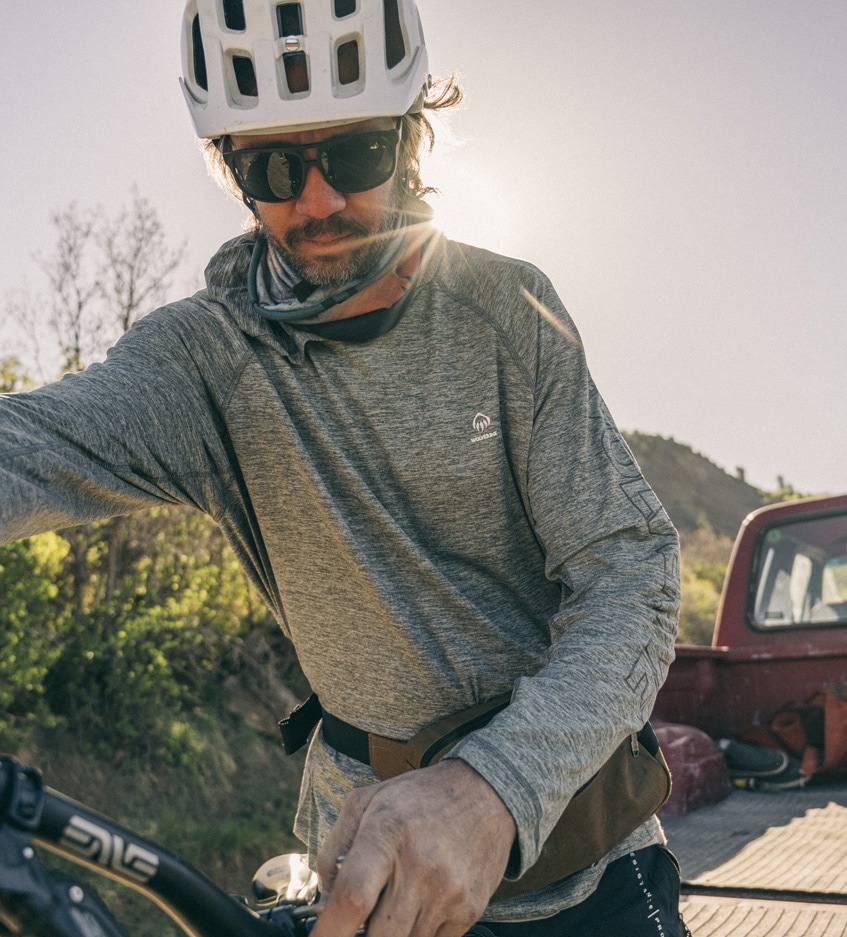 "The places a bike can take you is pretty amazing," he says. "When you put your mind to it, you can ride a lot of places. You get to a lot of cool, quiet spots. Everything's getting so overcrowded now. It's just nice to hear the wind, hear the water, animals, whatever you need to just kind of get out in the environment and get the hell away, unplug."
From his tiny, 400-square-foot shop, ten minutes in any direction puts him out in nature on some pretty phenomenal trails. That's why he moved to Ridgway in 2016, and why he first moved west 20 years ago, having grown up on Nantucket Island in Massachusetts.
On Nantucket, a bike was Nathan's primary form of transportation from a young age. He was always on one, riding to friends' houses and to his job, which happened to be at a local bike shop. His father worked there too, and from his dad he developed both a love for bikes and the bicycle mechanic skillset he uses today.

"I spent the first 10 years of my life just building Legos," he says. "I think that kind of set my brain up for being able to work on [bicycles]…There's a mindset to working on them, a methodical way to work on certain parts of bikes."
Every bike shop has its own unique vibe, and Nathan's taken his favorite aspects from that shop in Nantucket and combined them with favorite parts of the several other shops where he's worked over the years. He's tried to infuse some of those favorite elements into Ridgway Wrench.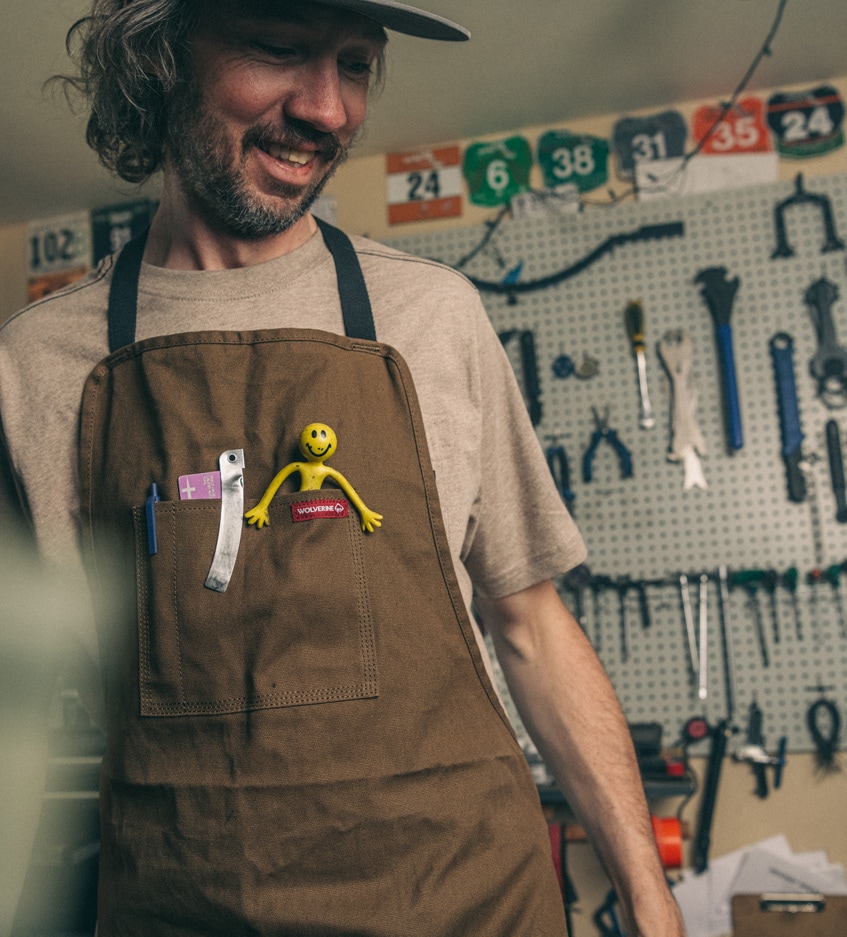 In the small shop race number plates and mementos line the walls. Nathan describes the vibe as laid-back, fun, and full of good energy. His welcoming demeanor and willingness to teach encourages customers to come, watch, talk, hang out, and nerd out on bikes. What the shop lacks in size it makes for in the eclectic nature of the bikes that come through. Sometimes he's fixing up 1950s-era cruiser bikes, other times he's keeping people's prized 20-year-old mountain bikes in top shape, and other times he's working on new, high-end race bikes both mountain and road. He enjoys the variety far more than some of the shops where he's worked where all the bikes he worked on were the latest, greatest, and most expensive.
People often donate bikes to him for restoration, and he enjoys the process of putting in some work and then passing the bikes onto someone that will have a good time on them.
"I'll give the bike a second, third life, whatever," he says. "It's really satisfying getting some clapped out mountain bike, or road bike, back on the road. There's a little bit about every era of the bicycle that's special to me. You can see the progression in design and just the beauty of it, the craftsmanship."
Nathan's biggest fear in opening Ridgway Wrench was the question of whether a shop like his could flourish in a small town like Ridgway. His shop space, in fact, had housed a bike shop previously that went out of business. But the trail network surrounding Ridgway was great, and the route of many cross-country cyclists came through the town. But most of all, Nathan thought of the people of Ridgway as an active, healthy, and friendly community—a community with an appreciation for a neighborly bicycle mechanic with a craftsman's attention to detail. And that's been exactly his experience, even through the challenges of a pandemic and a major supply chain shortage within the bicycle industry.

For Nathan, the idea that his life has come full-circle is not lost on him. From a kid on Nantucket with a love for bikes, to working in his first shop with his dad, to racing, to being a race mechanic, to running his own bike shop, his whole life has been dedicated to the freedom embodied by this two-wheeled machine. Sometimes when it's hectic and busy, it's tough to find time to get out and ride, but somehow he always does, and that makes it worth it.
"If I can get all my work done, talk to the customers I have coming in, put a sign in the door and get out for a ride, or if I need to go out of town and ride for a couple of days, I can usually work it out," he says. Sometimes he tells himself, "I probably should go outside and breathe some fresh air. So, that's typically what I lean toward. That really hasn't been really a challenge for me ever. You get into those slack off moments, and it feels good."