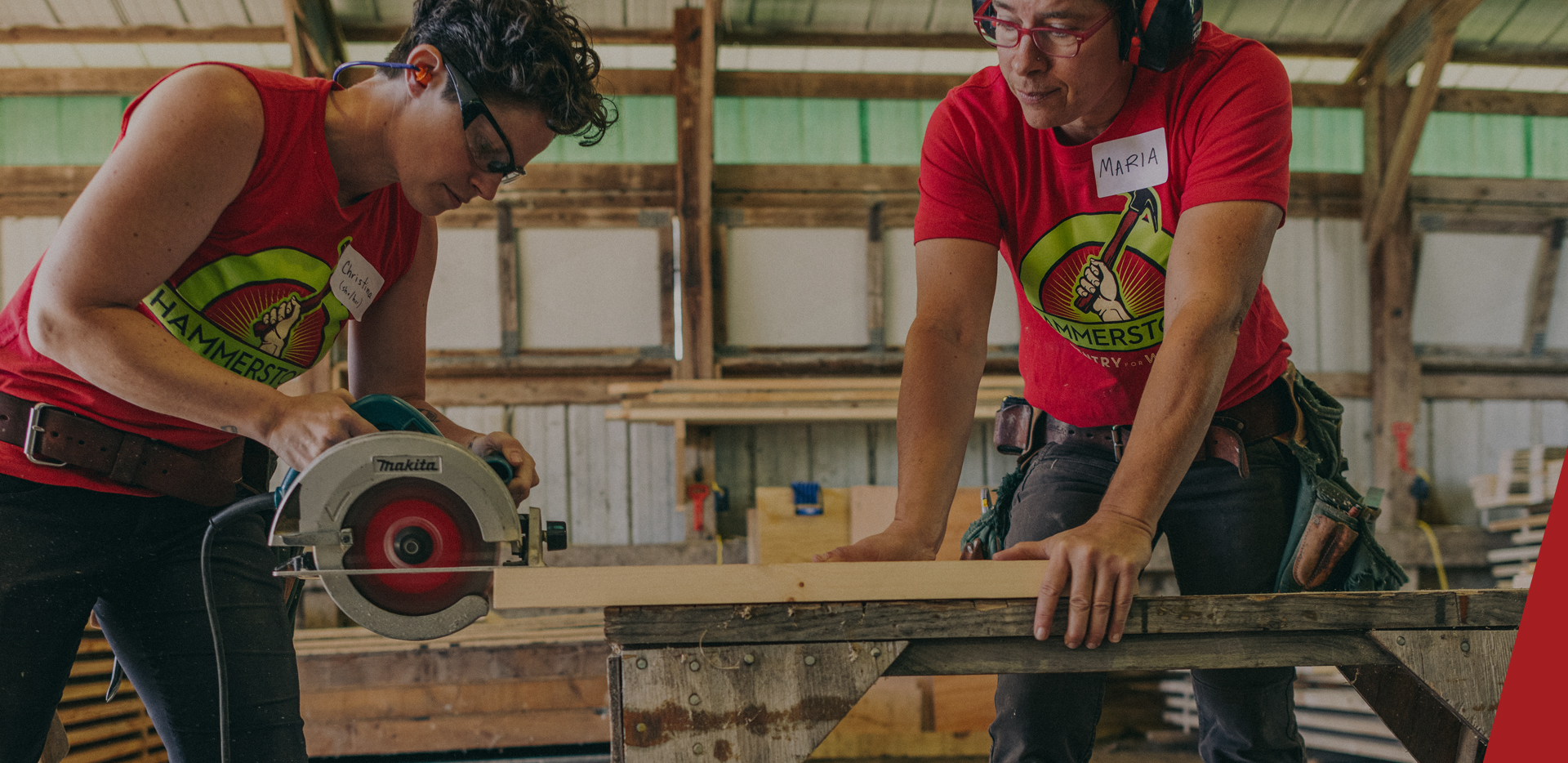 THE PATHS
WE FORGE
MARIA KLEMPERER-JOHNSON
Building Confidence by
Building a Community
Maria Klemperer-Johnson is a Jill of all trades. A computer programmer in a past life, she longed for something more; a deeper connection and a sense of community. She found that community by building
it herself.
Maria's path wasn't without twists and turns. When her computer programming career in Seattle left her wanting to get out from behind the screen and spend time outside, she moved to Ithaca, New York in pursuit of a graduate degree at Cornell University. The field work of her geology program satisfied those needs to some extent, but she still craved a chance to be creative and work with her whole body. It was finally in carpentry where Maria found her calling; the ultimate joining of her life's desires and passions.
Apprenticeships in cabinetmaking and home construction were Maria's first foray into the male-dominated world of carpentry. The work itself was fulfilling, but she found it exhausting in a way she
hadn't expected.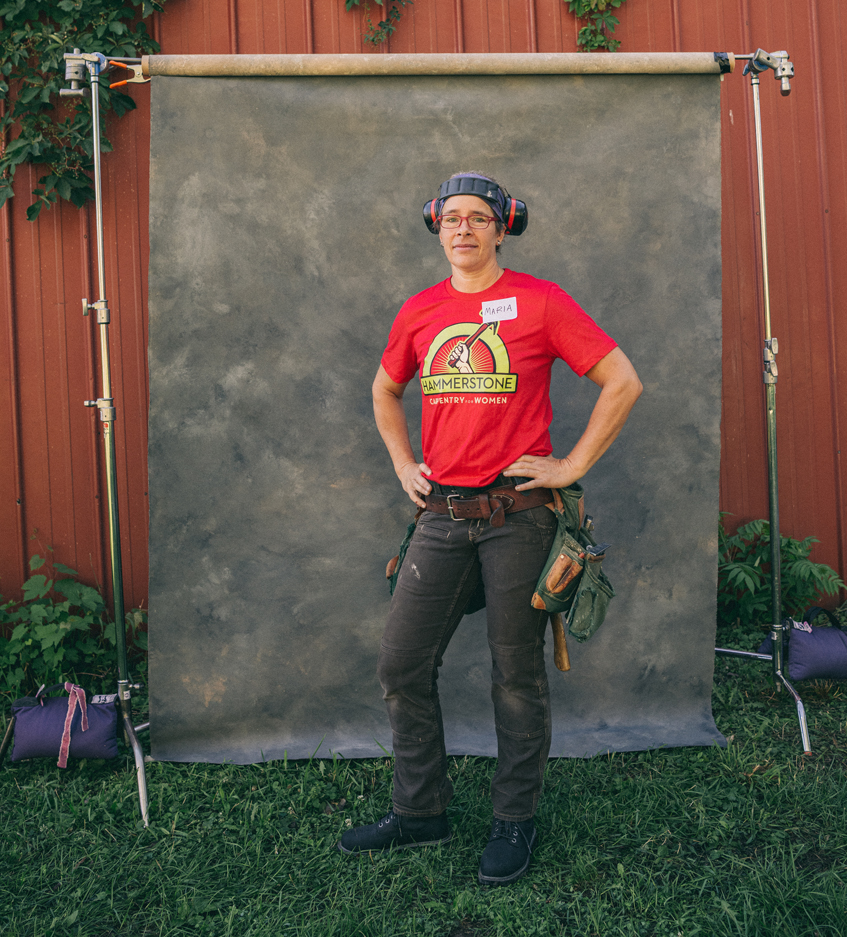 "While I had previously studied and worked in male-dominated fields, carpentry had by far the most gender inequality," Maria says of her experience entering the field. "Initially it was a thrill to be a unicorn, but I grew tired of feeling like I had to prove my gender every day…It's exhausting to uphold this standard and it is difficult to learn new things under this pressure."
It was these feelings of isolation and inadequacy that fueled Hammerstone: Carpentry for Women.
"I realized that in order to feel more comfortable, to feel like I didn't have to prove my gender, we just needed to get more women in the trades," says Maria. "I started Hammerstone School because I didn't want to be the only woman on a job site. I wanted to work with other women…it's not until a trade reaches 30 percent of women in that field that it starts to feel equitable. 3% of carpenters
are women."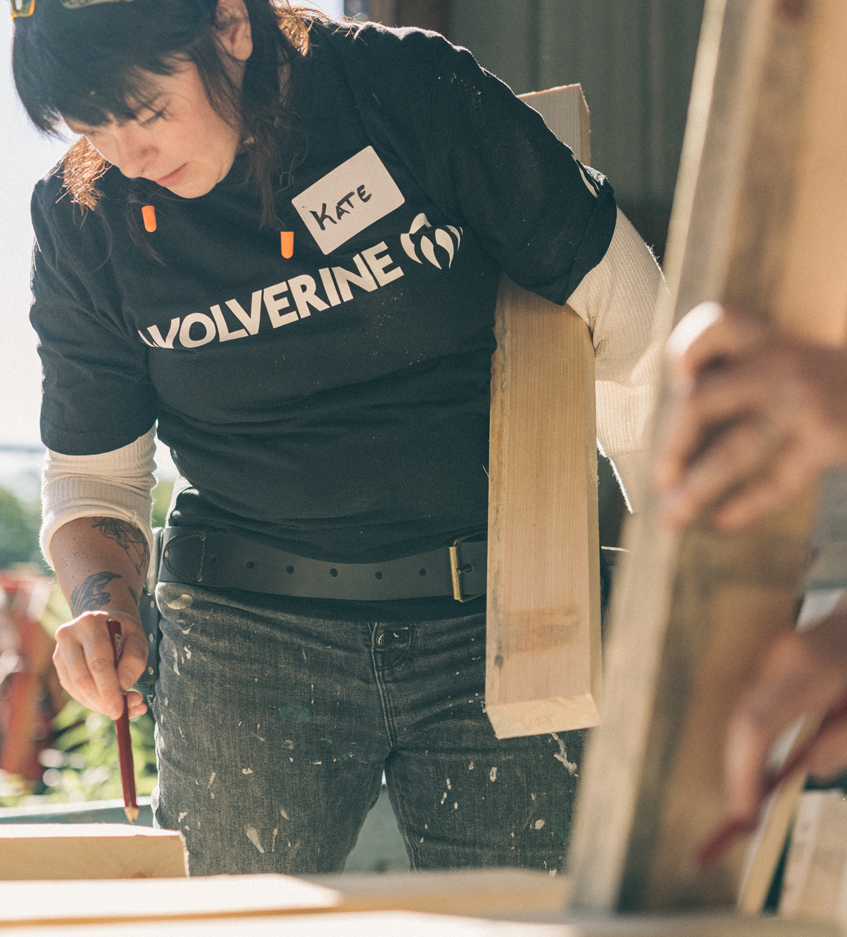 In the winter of 2012-2013, Maria hosted her first Hammerstone course, using an acquaintance's tiny house project as the opportunity to teach framing and interior trim work and detailing to a group of women eager to learn new skills and construct something together. The tiny house classes quickly led to others: a two-day introduction to carpentry skills course, and a cider press-building workshop. Before long, Maria had built a strong community of women with the desire to hone their skills in an environment that challenged and welcomed them.
But far more important than the coursework and curriculum that Maria teaches is her approach to teaching it. Through Hammerstone, Maria seeks to create a safe space free of judgement and commentary; a space where failure is embraced as an essential part
of learning.
"When I was learning my trade…I didn't feel like I could ever let anyone see me fail," Maria says, noting that this same pressure was a common theme observed among women coming through Hammerstone's doors, and something that she recognized would need to be suppressed and overcome in order to enable learning, and in turn,
build confidence.

"When we learn as kids, we don't think twice about failure. We stumble taking our first step, then get right back up again. Learning with the self-consciousness of adulthood is already challenging. It's doubly challenging to learn while being observed by people who will comment on every mishap with a quip about how women aren't meant to do this work."
Today, Hammerstone is a full-time operation with multiple instructors, a packed schedule, and a roster of hundreds of students that walk away feeling confident in their ability to operate power tools and build for themselves. And while this newfound confidence is the product of working with wood and tools, its power extends far beyond carpentry.
"You have all these little micro successes and that builds on itself and turns into true internalized confidence," she says. "I see in my own life how much the confidence I have built doing carpentry work has carried over into other aspects of my life…One of the greatest things I have learned from being a carpenter is how to fix mistakes. I have made every mistake in the book and I have fixed all of them. That has carried over into everything."